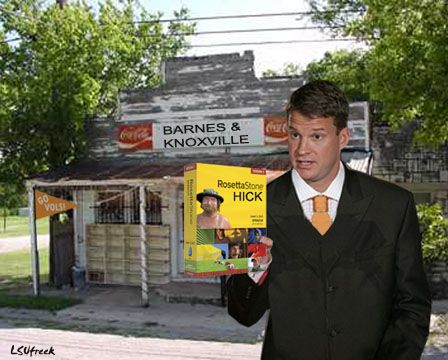 Hope your all having a good Wednesday! It was a sort of eventful day in the world of sports, and this post also includes my picks for the COLLEGE FOOTBALL AWARDS
because frankly, I love awards shows.
In college football news-The University of Tennessee is under investigation by the NCAA yet again. What's happened now you may ask? well it seems in order to get a step up on the Urban Meyer recruiting robots, Kiffin has turned to using "hostesses" to get recruits. Hostesses are not the snack cakes, but the practice of using pretty co-eds to get young impressionable recruits to come to your school. We don't know the entirety of the situation just yet, but considering this is Kiffin's 10,000,000,000,000,000,000,000,000,000th violation and he hasn't been fired yet, I wouldn't expect too much to happen.
In MLB/News that makes me wanna cry news-Randy Wolf was signed to a three-year contract with the Milwaukee Brewers today worth almost $30 million. We'll miss you here in Dodgertown U.S.A. and we wish you the best.
In NHL News-Hawks play the Rangers tonight.
Now, Its time for...college football awards
Presented by Jessica Alba apparently.